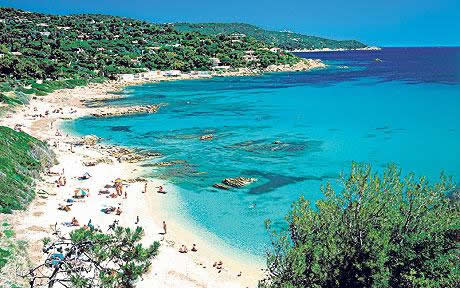 There are very few parts of the world which can provide you with such a wide range of choices when it comes to meeting the varied needs of those who are on holiday. The question is, "What type of holidaymaker or traveller are you?" Do you like to laze in the sun and relax, or do you prefer to immerse yourself more fully in the local culture? Does the ancient history of an area interest you more than the most modern nightclubs and do you prefer to sample local food or try a Michelin starred restaurant rather than search for the nearest thing to a burger bar? Are you more in to individual sporting activities like rock climbing or cycling, or do you like to enjoy sports with others, like playing golf, tennis or going sailing. Are you a loner on holiday or do you have young and enthusiastic, over-energetic children with you? Whatever the case, you might be surprised to learn that there is more to the French Riviera, or Côte d'Azur, as it is known in France, than you may have expected.
Beach Life
Certainly for the relaxing and indulgent beach based holiday, there is plenty of choice, though beaches in the South of France tend more to be pebbled as opposed to sandy. However the beaches around Cannes, Cap d'Antibes, Juan-les Pins and Villeneuve Loubet are some of the finest sandy beaches in the area, though as a consequence, they do get very crowded during the peak summer season. There is, however an alternative, and that is the private beach, something which may seem unusual to many but which is very normal in the Riviera. These private beaches offer a spot for around €10.00 a day and include a sun-lounger and, with some of the better beaches, waiter-service, though be careful as this can be expensive, even if wonderful!
History and Hotels
The whole area is steeped in history and one which is well documented. From Palaeolithic times through the Roman period and an extremely tempestuous Middle Ages, many parts of the region changed in ownership and rule. As a consequence there are some fascinating buildings which remain in the Riviera which provide a perfect potted history of the area. What is perhaps the most interesting point about the Riviera is that some of the most famous buildings are actually Hotels. This is mainly because the Riviera only really became popular towards the end of the nineteenth century and beginning of the twentieth, so it was from that time that many of the buildings in the area date. There is of course the Casino Royale in Monte Carlo, but the l'Hôtel du Cap-Eden-Roc, which dates back to the 1870 is probably one of the most beautiful buildings in France, being pure Napoleon III in style. The Hôtel Negresco in Nice occupies a sumptuous building dating back to 1750, while there is the unusual Château de la Chèvre d'Or in the village of Eze, which lies ten minutes between Nice and Monaco. Here you have a medieval château in which a restaurant was opened in the 1950's, and reputedly on the advice of Walt Disney, adjoining village houses were bought to provide additional 'suites' as the business expanded in to one of the most glorious hotels in France.
culture
Combining history with culture, the Côte d'Azur is almost synonymous with many famous painters, predominantly owing to the delicate Provençale and Mediterranean light. Antibes was home to Picasso during one of his most prolific periods and the museum there is a 'must see'. The Musée Fabres in Montpelier contains a stunning array of paintings from many old masters of Flemish, French and Italian origin and works dating from between the 15th and 18th century. The Musée de l'Annonciade in St. Tropez, which is more famous for other things, contains works by Bonnard and Matisse, while the Musée Nationale Marc Chagall in Nice has the largest collection of his works throughout France. Additionally, Nice is also home to the Musée des Beau Artes, which houses works from Monet, Dégas, Renoir, Picasso and Rodin sculptures.
Sport - both on and off the water
When it comes to sport, whether gentle exercise on a cycle ride or a strenuous day rock climbing, the French Riviera will keep you well entertained. With over 30 golf courses, the French Riviera is the best area in France for golf, the Mediterranean climate making it perfect for virtually year round playing. Being France, tennis is also extremely popular and all the major resorts have an abundance of tennis courts. Of course if you are a real tennis fanatic, then the Sophia Country Club located just north of Antibes is where you should be as it has one of the best tennis schools in the world, with over 20 courts to play on. Of course you can't avoid cycling in France, and the Riviera offers you the best of both worlds, though here there are three! The area is home to a stage of the Tour de France and many of the resorts also play host to smaller 'Riviera' or Côte d'Azur cycle 'tours' throughout the year. Of course if you are not feeling that energetic, Nice, Saint-Laurent-du-Var and Cagnes Sur Mer have over 1,200 'Vélo Bleu' bikes for hire which cost upwards of €1 per day and €5 per week. The two great advantages are that you register online and then use your telephone to make payment, then simply take a bike from one of over 50 cycle stations and drop it off at any other when you have finished. It's economical and great fun, especially as a family excursion. Finally there is no avoiding water sports, the Riviera ports of St. Tropez, Cannes, Monaco and Antibes being world renowned for 'superyacht' marinas and a lifestyle spent as much on water as on dry land. It isn't always quite straightforward to wander round these marinas as security is a major attraction for many of the world's richest people to moor their yachts, but hiring a boat and spending a day on the water is a great way to see some of these 'gin palaces' close up.
Food and Drink on the Riviera
So, we have the associations of sunshine, beaches, boats and bicycles with France, so there is only one final thing missing, or is that two? Whichever, they combine beautifully and they are wine and gastronomy. Though not world famous as a wine region, the Riviera and region of Provence are well known in France for the production of delightful and light rosé wines, the Côtes de Provence region around St. Tropez producing some of the finest. Because this area of France is also associated with the rich and famous, it should come as no surprise to learn that it is home to some of the finest restaurants in France, if not the world. The menus are heavily influenced by the Mediterranean location and Provençale simplicity and though despite such connotations, not everyone who lives on the Riviera is wealthy, so there is an abundance of simple cafés and restaurants which serve rustic food at under €20.00 for a set menu. However, it would be foolish not to mention restaurants at the other end of the scale, and possibly the finest in the area is the Louis XV restaurant in the Hôtel de Paris, Monaco with head chef Alain Ducasse and which is the only three Michelin starred restaurant in the region. Next we have Le Saint-Martin in Vence, Le Palme d'Or and Villa Archange in Cannes, plus the previously mentioned le Chèvre d'Or, in Eze, all of which hold two Michelin stars.
recommended restaurants in Villefranche-sur-mer
L'Aromate
20 av. Mar. Foch F - 06000 Nice
Phone: +33-493629824
La Cashbah
3 r. Dr Balestre F - 06000 Nice
Phone: +33-493855881
Flaveur
25 r. Gubernatis F - 06000 Nice
Phone: +33-493625395
Your restaurant here?
Please contact us
villa rentals in the Villefranche-sur-mer area
| | |
| --- | --- |
| The Frogs House | Looking for an unforgettable experience in a typical French village, 15km from Nice and the French Riviera ? Come to enjoy our 7 cosy bedrooms with views to the sea and over the surrounding hills. |
| Villa Belmonte | "Villa Belmont" is a brand new luxury villa in the beautiful old village of Biot in the South of France. |
| Your villa here? | Please contact us |
car hire
real estate