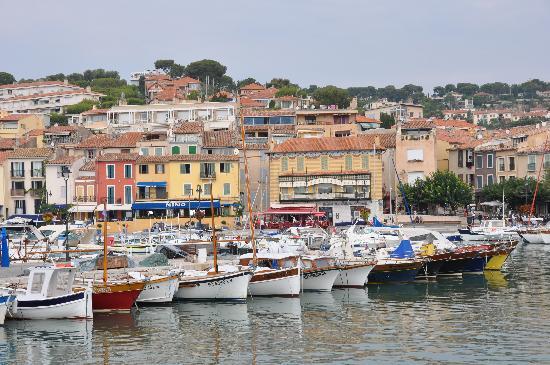 While it is fair to say that Aix-en-Provence lies within the French Riviera, it is a town which relies more on its character than its location to inspire and provoke enthusiasm. Though lying only 27km North of Marseille and the Mediterranean and 19km to the West of the massive landlocked Étang de Berre, Aix-en-Provence perhaps more typifies the type of inland Provençale town with narrow streets and a wealth of character coming from old facades under terracotta pantile roofs. With a population of approximately 150,000 inhabitants the town exudes French charm and when you are there you can be left in no doubt as to which country you are in.
A short history of Aix-en-Provence
Aix-en-Provence used to be the original capital of Provence before Marseille and is better known as the cultural and historic capital of the Provence region. Earliest records of Aix-en-Provence date as far back as 123BC when the town was called AquaeSextiae by the Roman consul Sextius and in acknowledgement of the water springs which were predominant in the area. In the 1300's Aix became a seat of learning and grew in importance as the region's centre, the town and surrounding area falling under the crown of France and Louis Xll in the latter part of the fifteenth century. With such an important past history, Aix-en-Provence has inherited a wealth of architectural beauty over the centuries, which inevitably makes it one of the more interesting towns in the South of France.
tourist attractions in Aix-en-Provence
When it comes to arts and culture, it is hard to avoid the fact that the artist Paul Cézanne (1839-1906) found most if his inspiration in and around Aix-en-Provence, particularly from the distinct light of the region, and the town not only has preserved his original 'atelier' or workshop, but in 2006 opened up the Bibemus Quarries as a visitor attraction set within 17 acres from where it becomes easier to understand where Cézanne's inspiration came from with stunning views of Saint Victoire. Cézanne's popularity has led to his paintings being found throughout the world, yet fortunately Aix-en-Provence has managed to retain eight of them in the Musée Granet. However, Aix isn't just about Cézanneand as previously mentioned; water plays a big part in the town's history, which is reflected in over forty fountains which can be found throughout the town centre. All the water for these fountains comes from mineral rich water which is pumped from the ground at a natural temperature of 36 degrees and the town is well known for its spa treatments.
festivals and events in Aix-en-Provence
Because Aix-en-Provence is the cultural capital of Provence, there is usually something happening on a monthly basis. July will see the beginning of the International Festival of Lyrical Art which ranks in importance alongside Glyndebourne and Salzburg, while from May through to September, for two days each month in the Cours Mirabeau, Les Calades Provençale  are held which celebrate the artisanal arts of the Provençale region, including jewellery, paintings, handcrafts, perfumeand pottery. 'Musiquedans la Rue' takes place every June to coincide with France's national music festival, which sees streets and squares used as open air venues for classical jazz.
GASTRONOMY in Aix-en-Provence
And because we are talking Provence, it is hard to ignore either wine or food. The town has a daily open air market for food in the place Richelme and flowers in either the place d'Hôtel or place de Prêcheurs, whilegastronomy can be found at all levels, including local 'calissons' or lozenge shaped almond and melon sweets. Set lunchtime menus vary in price with many reasonably priced at around €20.00, though the more upmarket and Michelin starred restaurants including Le Clos de la Violette and Pierre Reboul will cost nearer €100.00 This part of France is also known as the 'Bouches du Rhone'and local dishes include bouillabaisse, bourride which is a thicker fish stew and 'Pieds et Paquets' which are lambs trotters and stuffed lamb's somach!
recommended restaurants in Aix-en-Provence
La Brocherie
5 Rue Fernand Dol -13100 Aix-en-Provence
Phone: +33 4 42 38 33 21
Pierre Reboul
11 Petite-Rue-St-Jean - 13100 Aix-en-Provence
Phone: +33 4 42 20 58 26
Le Formal
32 r. Espariat - 13100 Aix-en-Provence
Phone: +33 4 42 27 08 31
Your restaurant here?
Please contact us
villa rentals in the Aix-en-Provence area
| | |
| --- | --- |
| The Frogs House | Looking for an unforgettable experience in a typical French village, 15km from Nice and the French Riviera ? Come to enjoy our 7 cosy bedrooms with views to the sea and over the surrounding hills. |
| Villa Belmonte | "Villa Belmont" is a brand new luxury villa in the beautiful old village of Biot in the South of France. |
| Your villa here? | Please contact us |
car hire in Aix-en-Provence
real estate in Aix-en-Provence