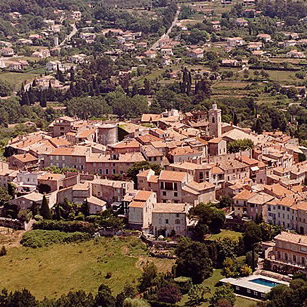 Mougins lies approximately 7km due north of Cannes and the Mediterranean Sea and some 11km south west of Grasse and has a population of just over 20,000 inhabitants. The area ofMougins typifies the Côte d'Azur with olive, pine and Cyprus trees dotted around the town and forest on the outskirts, here this being the Valmasque Forest. With the proximity of Grasse, the perfume capital of the world, the area surrounding Mougins produced considerable amounts of flowers for the perfume industry during the 19th and earlier part of the 20th century. Today the town is more associated with the rich and famous who want to stay away from the hustle and bustle of Cannes, but still have easy access to all that the seaside resort offers.
A short history of Mougins
There has been a settlement at Mougins since Roman times and between the 11th and 15th centuries the town fell under Genovese control. Turbulent times during the Middle Ages saw Mougins, like so many towns in the region, become heavily fortified and parts of the original battlements dating back to medieval times still exist. Historically, the town is more associated with events and people of the 20th century and particularly Pablo Picasso, who spent his final years there between 1961 and 1973. Other notable names that have stayed in Mougins include two magnates of the fashion and perfume industry, Yves Saint Laurent and Christian Dior, as well as Winston Churchill, Catherine Deneuve and Edith Piaf.
tourist attractions in Mougins
As a representation of the history of the area, in 2011 Mougins opened the Muséed'ArtClassique, which currently holds over seven hundred artefacts which date back for at least two thousand years, yet the museum places equal importance on recent works of art, exhibiting paintings by Cezanne, Matisse and Picasso, as well as more modern artists including Damien Hirst and Anthony Gormley. However, where period art is concerned, this is also covered with the inclusion of works of art by Paul Rubens and Alessandro Turchi.Architecture also plays a big part in the character of Mougins and two diverse styles are the 11th century church St-Jacques-le-Majeure and the rare octagonal St Barthelemey chapel..
festivals and events in Mougins
Despite being one of the smaller towns on the Côte d'Azur, Mougins does not lack in events and festivals, especially during the summer months. With Cannes less than 15 minutes' drive away, it is surprising how much effort the town puts in to entertainment, but then that is very typical of the French Riviera. Virtually every evening of the week during the summer will see either open air concerts, open air cinema or theatre and song and dance evenings.
GASTRONOMY in Mougins
Though very much tied in to the perfume industry, Mougins is also well known in gastronomic circles, being home to the famous restaurant l'Amandier, which has had such chefs as Alain Ducasse, Denis Fetisson and Roger Vergé working there. La Place Mougins and l'Amandier both have Denis Fettison as their head chef. Mougins also plays host to 'Les Etoiles de Mougins' which is an international gastronomy festival which takes place annually in September. With such exceptional restaurants in the town, there are also opportunities to take short courses in gastronomy and cooking at many of these including l'Amandier and Le Moulin de Mougins and with the area also being well known for its wine, there are also wine tasting events which are held at La Cave de Mougins and Le Petit Fouet.
recommended restaurants in Mougins
La Place de Mougins
41 pl. du Commandant Lamy F - 06250 Mougins
Phone: +33 4 93 62 98 24
L'Amandier de Mougins
48 av. Jean-Charles Mallet F - 06250 Mougins
Phone: +33 4 93 90 00 91
Brasserie de la Méditerranée
32 pl. du Cdt Lamy F - 06250 Mougins
Phone: +33 4 93 90 03 47
Your restaurant here?
Please contact us
villa rentals in the Mougins area
| | |
| --- | --- |
| The Frogs House | Looking for an unforgettable experience in a typical French village, 15km from Nice and the French Riviera ? Come to enjoy our 7 cosy bedrooms with views to the sea and over the surrounding hills. |
| Villa Belmonte | "Villa Belmont" is a brand new luxury villa in the beautiful old village of Biot in the South of France. |
| Your villa here? | Please contact us |
car hire
real estate